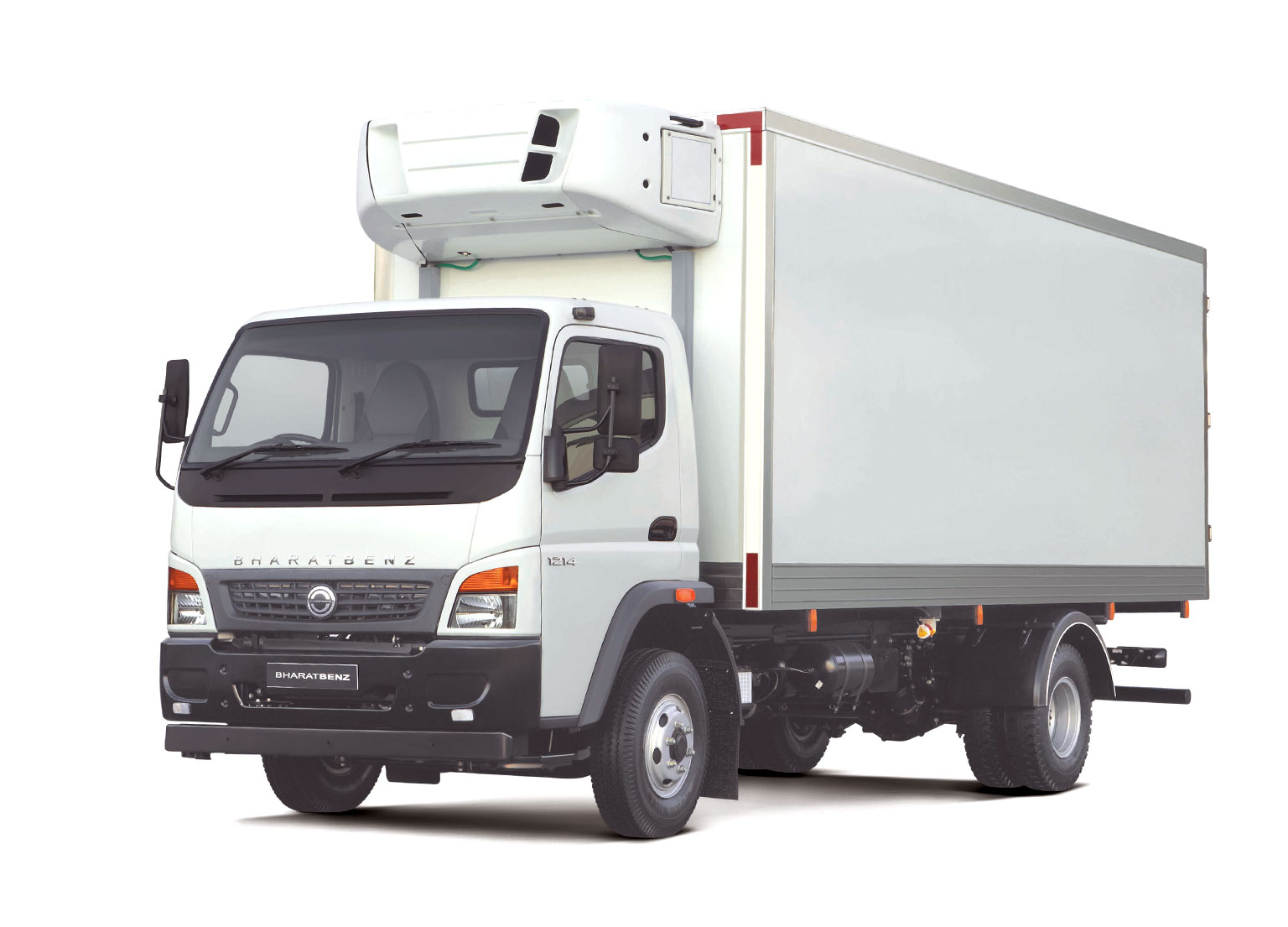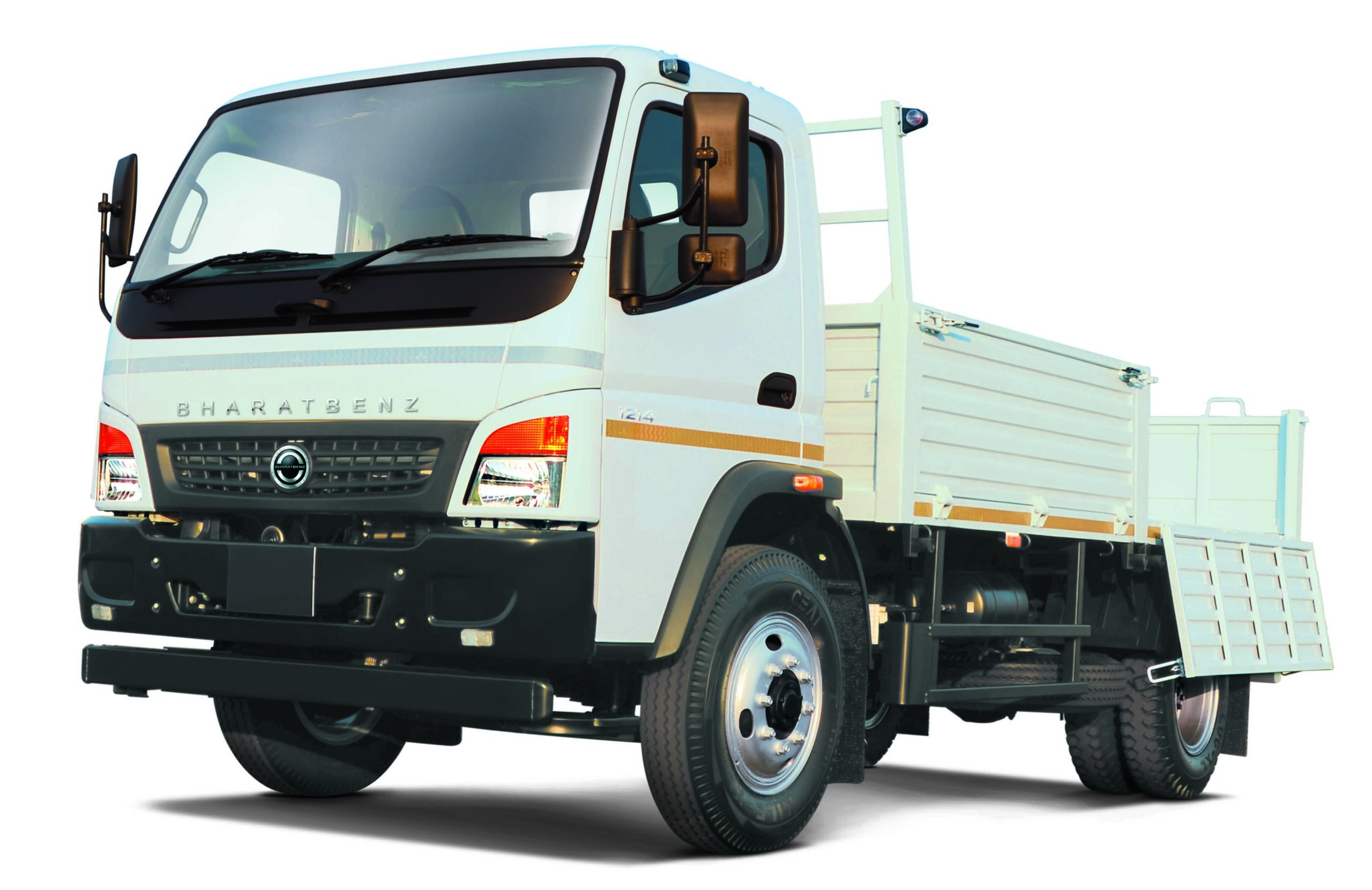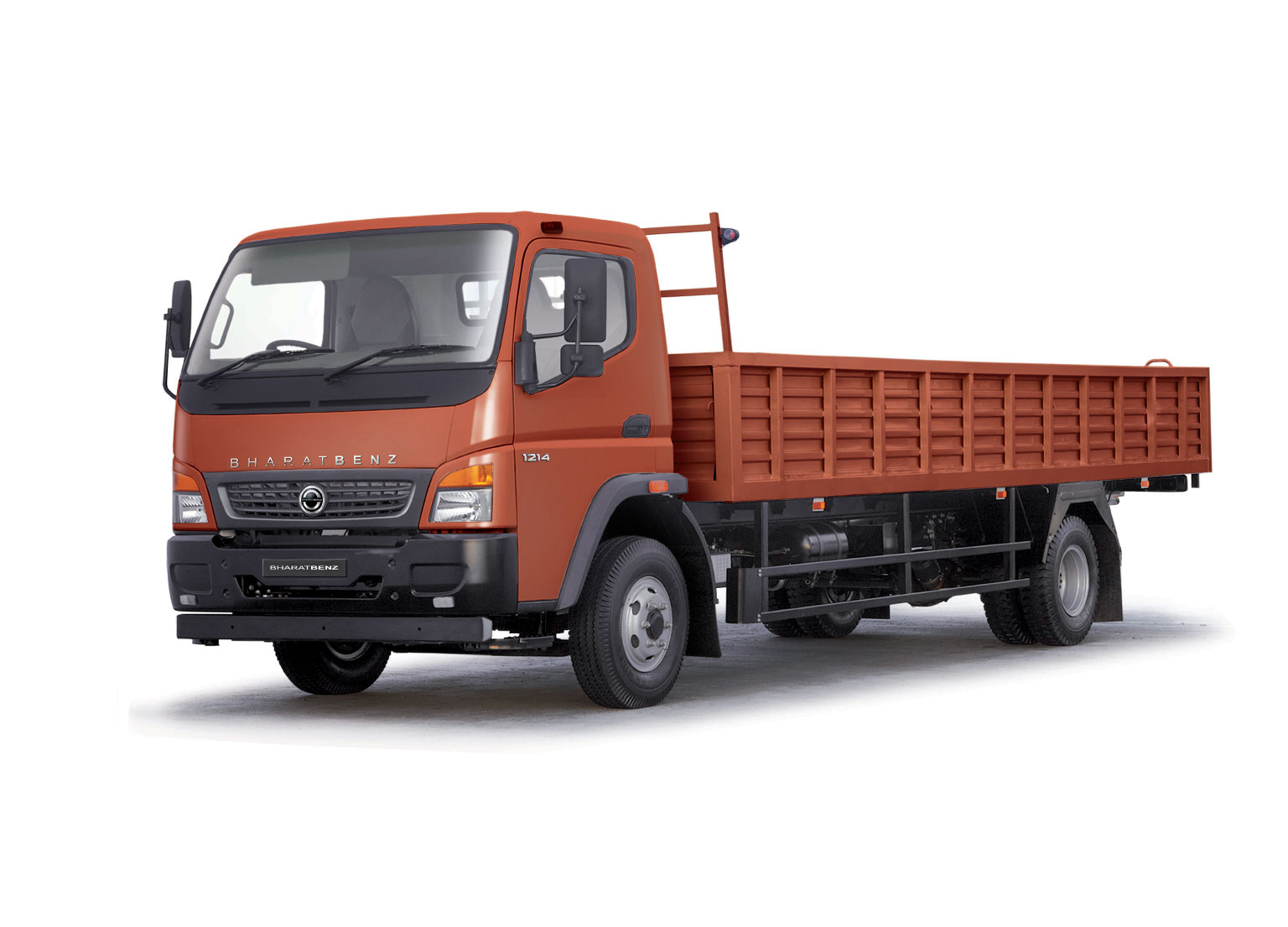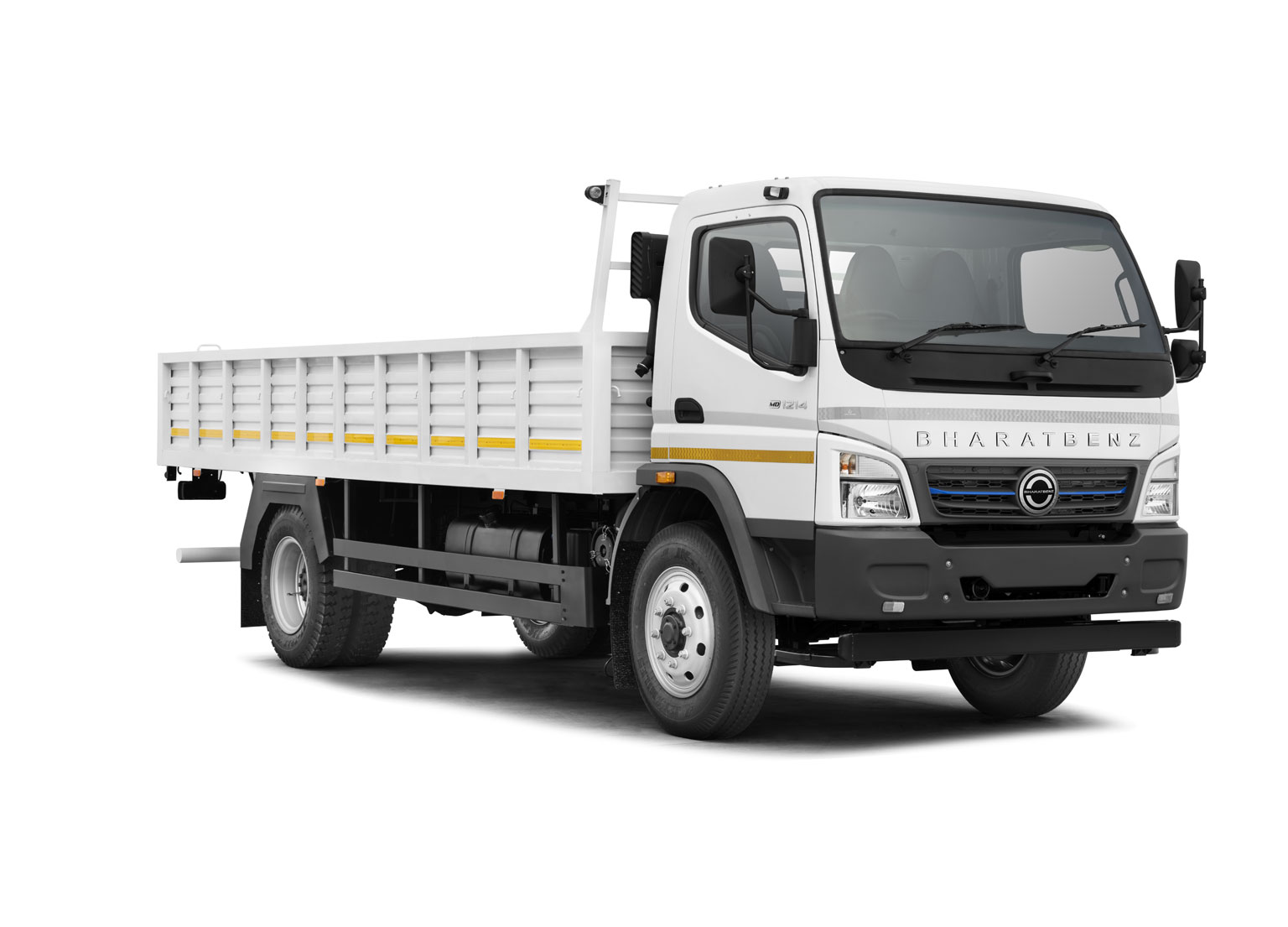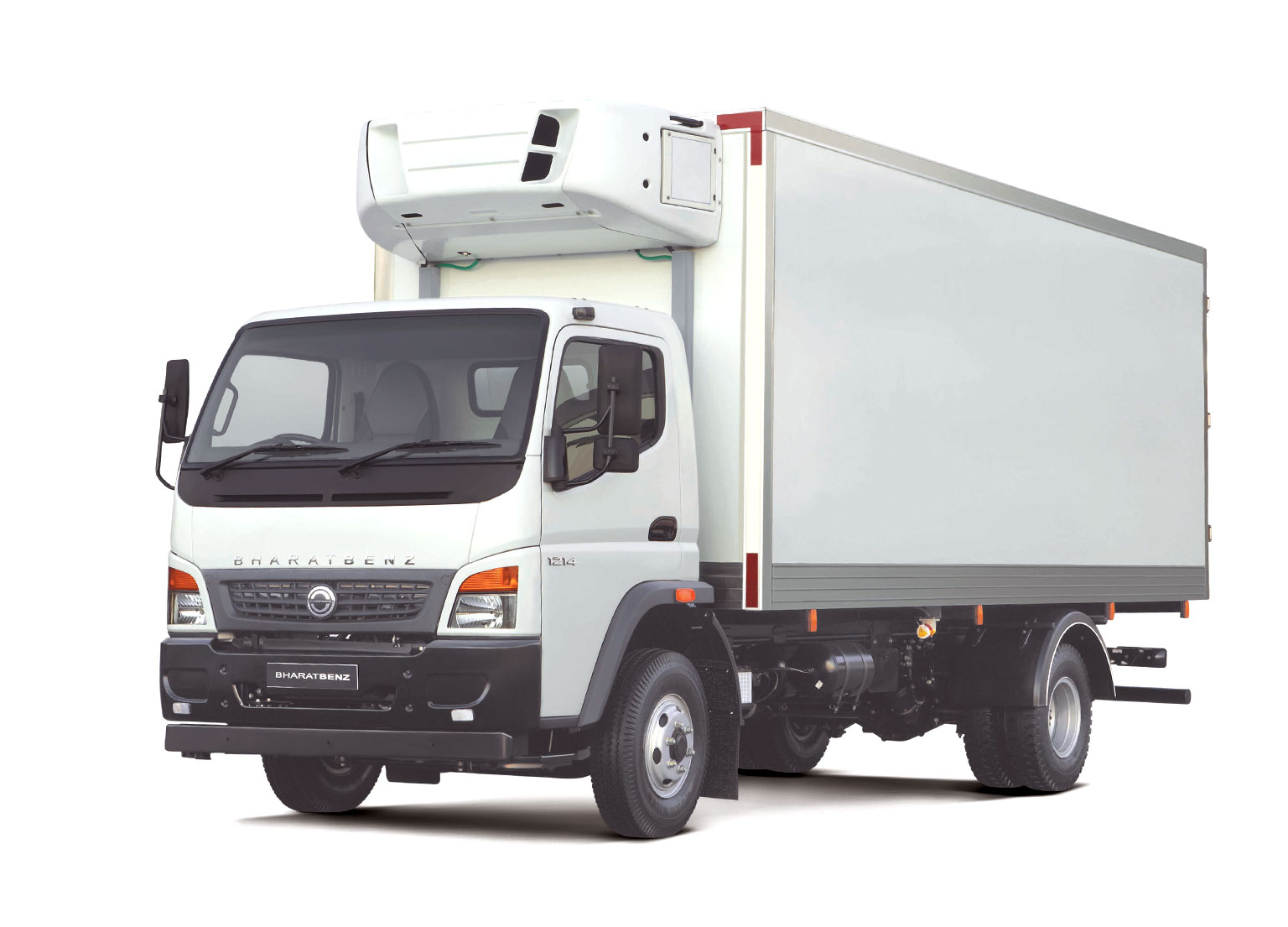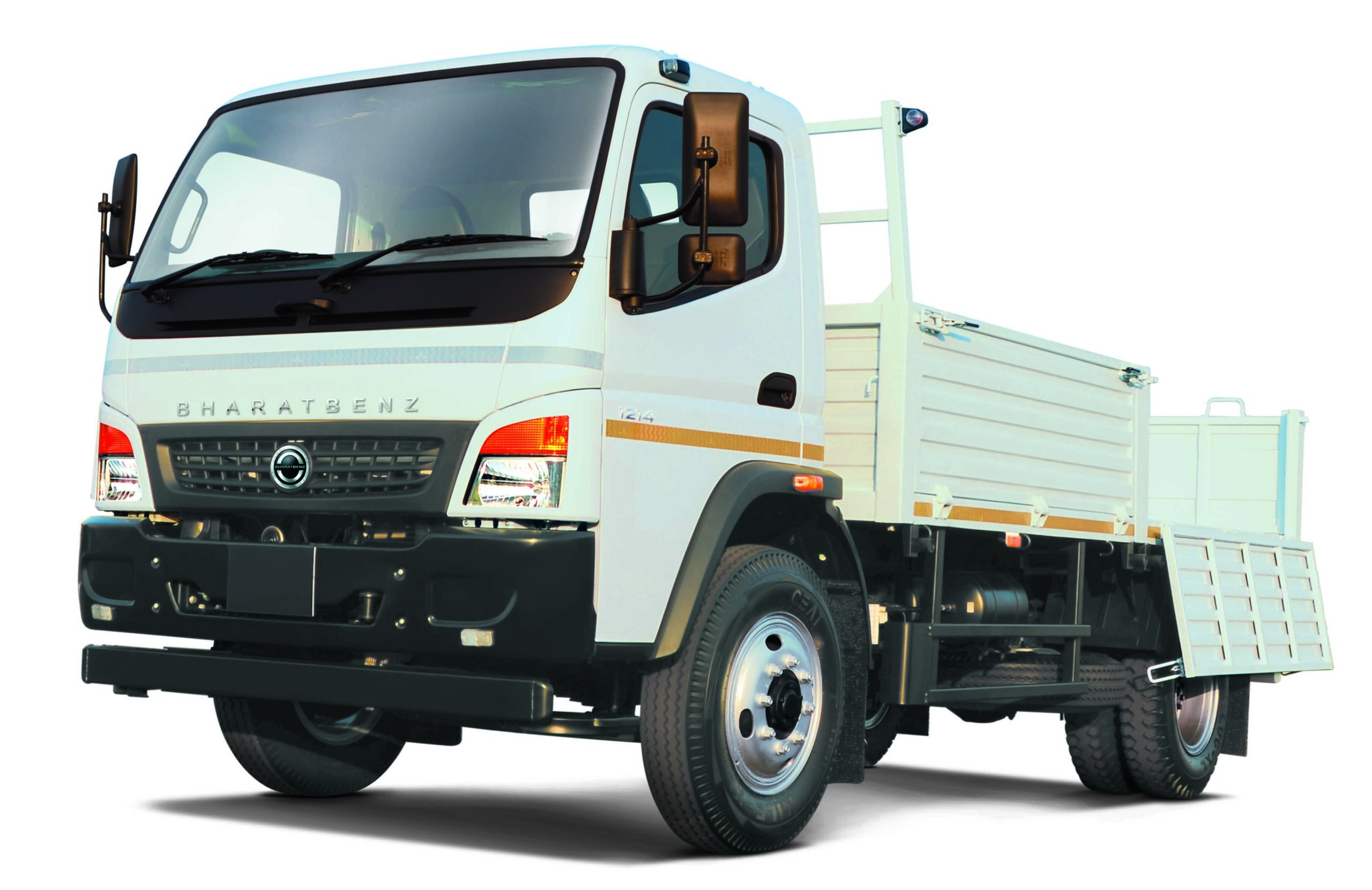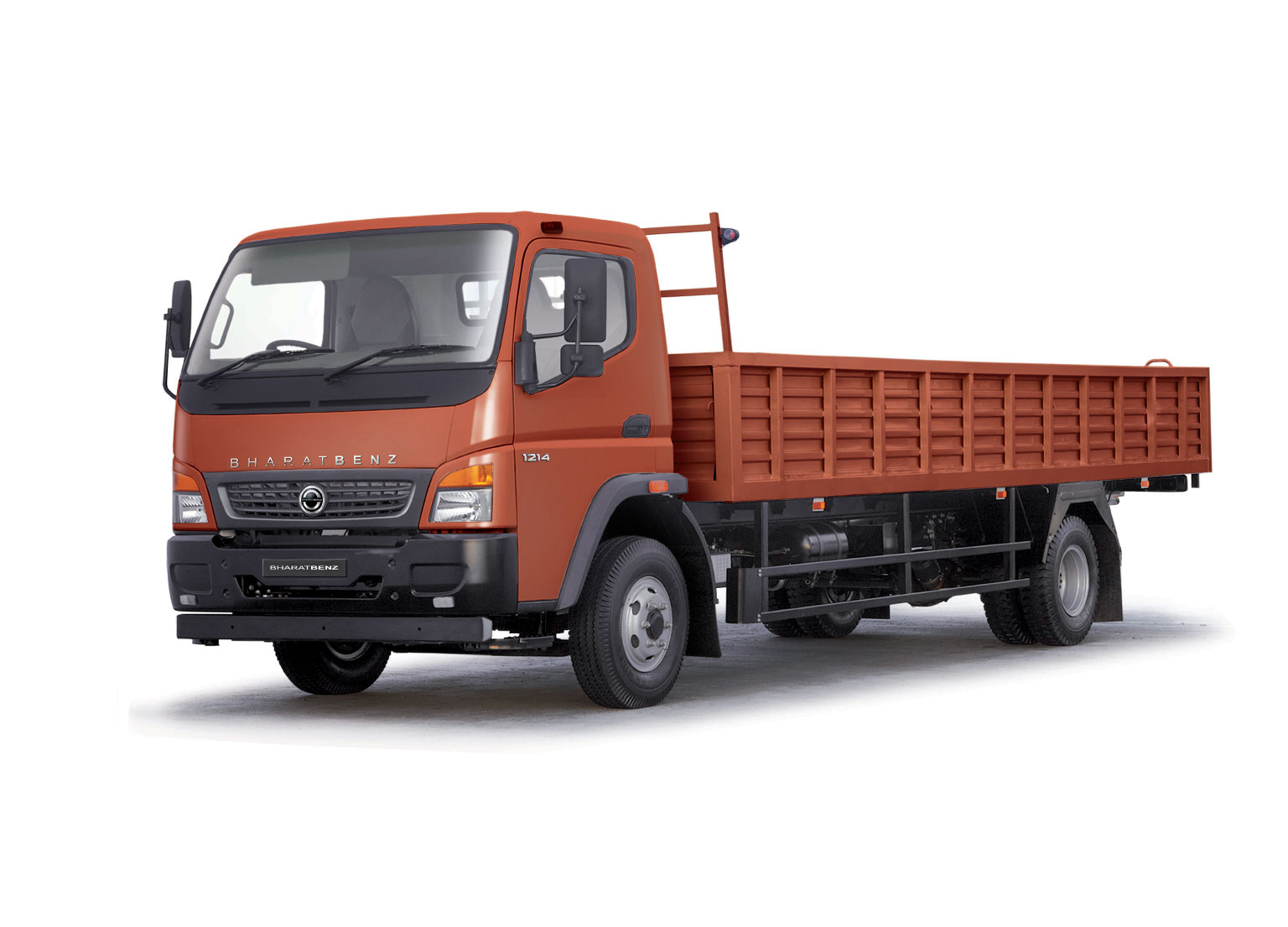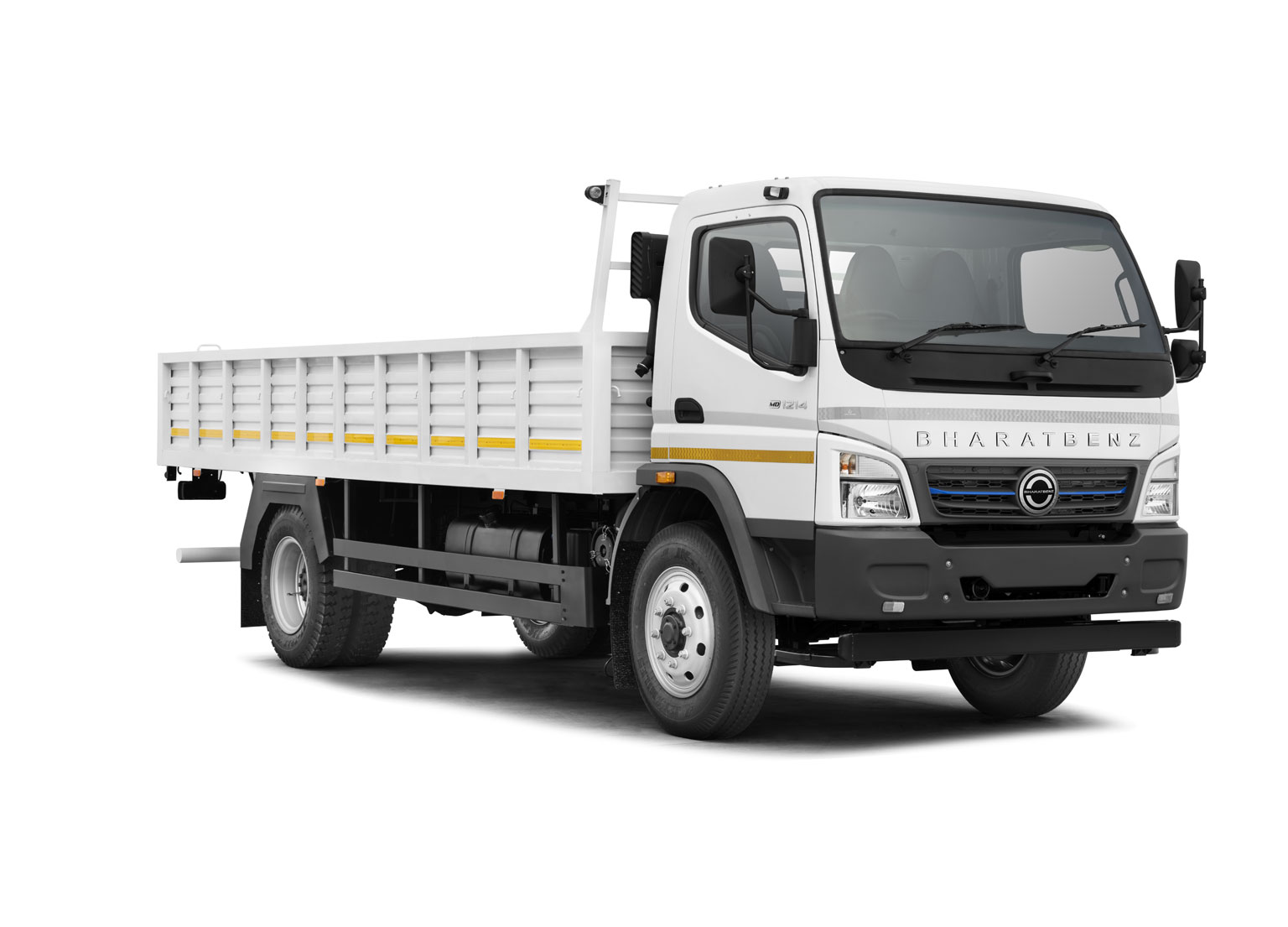 1214R
The engine is 3907 cc 4D34i, producing power of 100Kw(140hp) @ 2500 and a maximum torque 420 Nm @ 1500-2000 rpm.
The engine is coupled with G85, 6 speed (6F+1R), with cable shift gearbox offering superior mileage.
The wheelbase of 3760mm&4250 mm allows this BharatBenz truck to offer load body length suitable for different kinds of applications.
Air Brakes offer superior safety and the semi elliptical leaf springs suspension in front and Luxury Cabin provides fatigue free driving.
CRDI FIP enhance better fuel mileage.
Technical Specification

BharatBenz 1214R is a truck with gross vehicle weight of 9600 kg. The engine powering this BharatBenz truck is 3907 cc 4D34i CRDI, SCR Technology, producing 140 HP of power and 420 Nm of maximum torque. The engine of the BharatBenz 1214R truck is coupled with a 6 speed manual (6F+1R), With cable shift gearbox offering superior mileage. This BharatBenz 1214R truck comes in 4x2 axle configuration. The wheelbase of 3760 mm, allows this BharatBenz truck to offer load body length suitable for different kinds of applications. Air Brakes offer superior safety in BharatBenz 914R and semi-elliptical leaf springs, with telescopic shock absorbers suspension in front offers good ride quality.

Diminension

| | | | |
| --- | --- | --- | --- |
| Wheel Base | 3760 | 3760 | 4250 |
| Overall Length | 6380 | 7075 | 7585 |
| Overall Width | 2225 | 2225 | 2225 |
| Overall Height | 2500 | 2500 | 2500 |
| Minimum ground Clearance | 245 | 245 | 245 |
| Load Body Length | 4440 (14.6 ft) | 5175 (17 ft) | 5785 (19 ft) |

Weight

| | |
| --- | --- |
| Gross Vehicle Weight (GVW) | 12,800 kg |

Engine

| | |
| --- | --- |
| Model | 4D34i |
| Maximum Power | 100 kW (140hp) @ 2500 RPM |
| Maximum Torque | 420 Nm @ 1500 – 2000 rpm |
| No. of cylinders, Displacement | 4 Nos., 3907 cc |

Gear Box

| | |
| --- | --- |
| Gearbox Model & Type | G 85 – 6F + 1R, Mechanical, Synchromesh Gears |
| Clutch Type, Diameter | Single dry plate, Hydraulic actuated, 362 mm |

Axle

| | |
| --- | --- |
| Front Axle Model, Type | IF 4.5, Reverse Elliot |
| Rear Axle Model, Type | AAM 9.22, Full floating, Hypiod gears |
| Differential Ratio | 14.6 ft-6.33 | 17 ft-6.33 | 19 ft-5.13 |

Chasis Frame & Suspension

| | |
| --- | --- |
| Chassis Type | Ladder type Channel Section with cross member |
| Depth x Flange Width x Thickness | 228 mm x 80 mm x 6mm |
| Front Suspension | Semi elliptic leaf spring with shock absorbers |
| Rear Suspension | Semi elliptic laminated leaf spring |
| Anti-roll Bar | Optional (Front & Rear) |

Brakes & Tyres

| | |
| --- | --- |
| Service Brake | Pneumatic, Foot Operated, Dual Line |
| Parking Brake | Pneumatically operated Spring brake |
| Wheel Rims & Tyre | 6.50 x 20, 8.25 x 20-16 PR |

Steering & Cabin

| | |
| --- | --- |
| Steering Type | Hydraulic Power Assisted |
| Cabin | Day Cabin, Tiltable |

Fuel Tank & Electrical

| | |
| --- | --- |
| Fuel Tank | 200 liters |
| Voltage | 24 V Electrical System |
| Battery Capacity | 2 x 12V, 75 Ah |

Performance

Maximum

Gradability

14.6 ft-27.5% | 17 ft-27.5% | 19 ft-21.8%
Maximum Grade Speed
90 km/h
Minimum Turning Circle Diameter
4440-14.8 m | 5785-14.8 m | 6405-17.7 m
Pay Load (kg)
4440-9205 | 5785-9205 | 6405-9305

Configuration

| | |
| --- | --- |
| Standard | Cabin & Chassis |
| Load Body Option | Fixed Side Deck, Drop Side Deck, High Side Deck |
| Option Packs | Comfort Pack (A/C) |

EMI CALCUlATOR

It is very easy to calculate the EMI for your BharatBenz Truck. You will get EMI as soon as you enter the required loan amount and the interest rate. Installment in EMI calculator is calculated on reducing balance. As per the rules of financing institutions, processing fee or possible charges may be applicable which are not shown in the EMI we calculate.

EMI Calculation